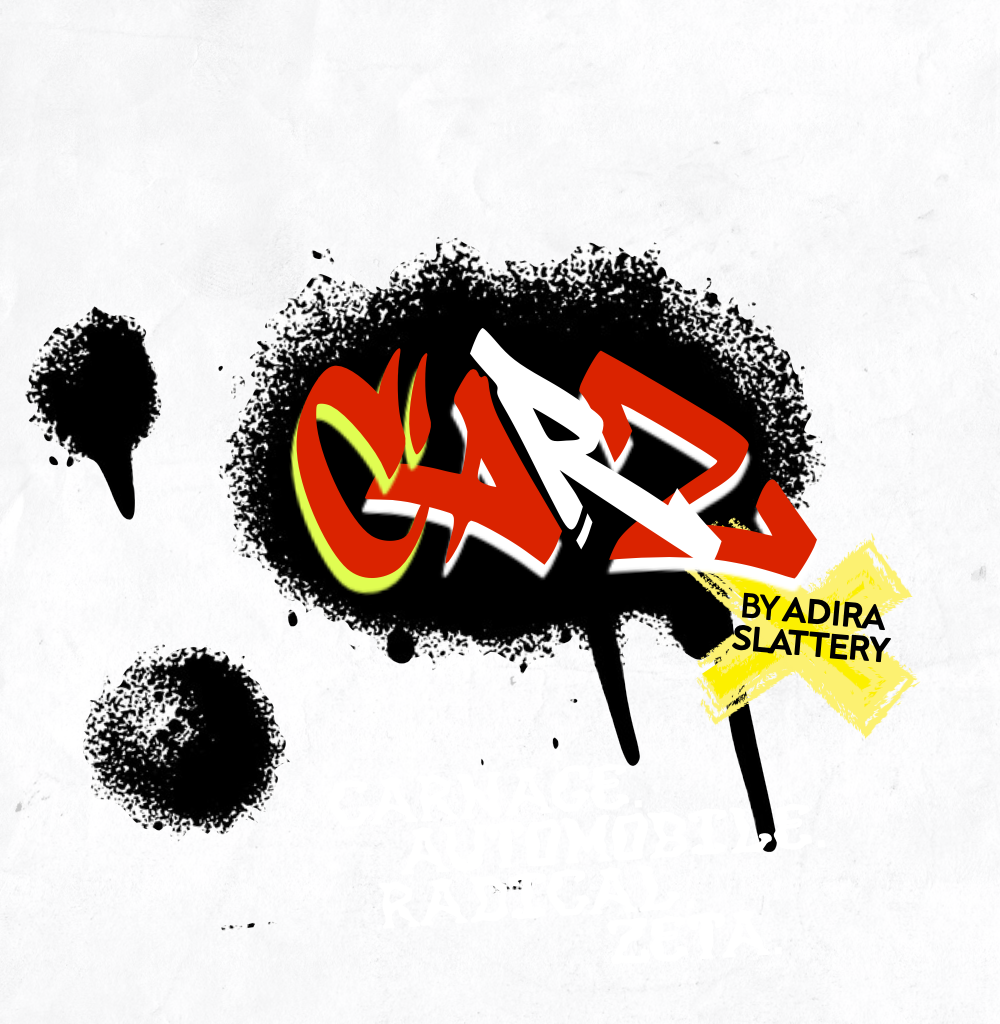 CARZ
THE EARTH IS A COSMIC DUMPSTER
Welcome to Earth, the Junk Capital of the Universe. You're probably wondering what happened to the Humans yeah? Goddamn Aliens showed up, the Humans blew themselves up as a final fuck you, and then the Aliens set up a blockade around the solar system to contain whatever was left. Much good that did Humanity, as they are a relic of the past just like all those burned out cities and cracked roads. Mutantkind rules the roost now—an amalgam of Humans, Aliens, and who knows what else from across the unknown stars with just the right spice of radioactive fallout mixed in. The planet is mostly just left alone now. But every once and a while those Aliens stop by the old brown marble to dump their fucking garbage here, and we get the dangerous shit like unexploded bombs and political dissidents. Earth is now the universe's combo junkyard and prison colony. And us Mutants speed around the blasted landscape on CARZ, souped up junkers made of hybrid Alien garbage and old Human tech. Listen to them purr! Smell the exhaust! Feel the wind! Gotta cherish your life while you still have it, y'know?
Looking down at us and laughing are the Lunars, weird fucking snobs who live on the Moon. Every night their shining paradise glows down at us, and we drink and spit and flick them off. They never really show their punchable faces down here planet side, except if they see some choice garbage they wanna send a fucking army to haul back up to their god forsaken hellhole of shining chrome and clean water. Well, that's the history tour and my fat ass is itching to get back on the road. You should find yourself a ride, and quick. Otherwise you're gunna be roadkill.
ROLL OUT MOTHERFUCKERS!!! *screech*
—Three Eye Murphy to a newly arrived Garbage, moments before his CAR exploded in a ball of nuclear flame
CARNAGE
Blood, guts, and violence! The world is a dangerous place. Your character might crack a few skulls or drive a car directly through a dragon, but that's just life. Wake up and smell the viscera!

AUTOMOBILE
You gotta get across the brown marble somehow! Might as well be in a muscle car with an alien engine welded into it. Who cares if the demonic fuel cell screams nightmares directly into your brain, it fucking drives!

RADICAL
This game is about a shitty garbage world sure, but it's one filled with queer joy and unbridled passions. Someone always wants to erect some shitty order, so let's tear it down and get to having fun.

ZETA
Let's get fucking weird with it. In this game you play a fucked up mutant, gorgeous in your multiplicity or nearly bursting with uniqueness. You might be a robot, a talking dog, or even a cool girl.

PEOPLE
Game by Adira Slattery
Layout by Maria Mison

Purchase
In order to download this crash you must purchase it at or above the minimum price of $10 USD. You will get access to the following files:
CARZ - full color pages.pdf
48 MB
CARZ - full color spreads.pdf
46 MB
CARZ - full color printable booklet.pdf
57 MB
CARZ - no layout pages.pdf
4 MB
CARZ - no layout printable booklet.pdf
7 MB
Community Copies
Support this crash at or above a special price point to receive something exclusive.
Community Copies
For every copy of CARZ you buy at $15.00, I donate a free one to the community. Feel free to claim one of these!
If there are none here, and you need or want one for any reason, please send me a DM on twitter @adiraslattery

Download demo